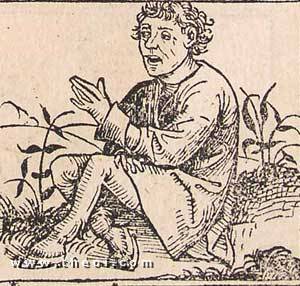 Hippopod from the Nurenburg Chronicle, 1493
THE HIPPOPODES were a tribe of horse-footed men who lived in the mythical islands of the far north.
---
Pliny the Elder, Natural History 4. 94 (trans. Rackham) (Roman encyclopedia C1st A.D.) :
"Crossing the Ripaean Mountains [probably the Carpathians in central Europe] must coast to the left along the shore of the northern ocean until we reach Gadis. In this direction a number of islands are reported to exist [perhaps in the Baltic Sea] . . . [and] the Hippopodes on which people are born with horses' feet, which gives them their Greek name."
---