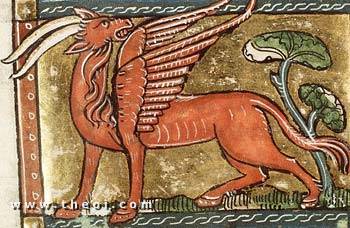 Ethiopian Pegasus, Der Naturen Bloeme manuscript
c. 1350, National Library of the Netherlands
THE PEGASOI AITHIOPES were a herd of winged, horned horses native to Aithiopia (sub-Saharan Africa).
The famous Pegasos horse of myth was himself said to have been born near Aithiopia, on the Red Sea island of Erytheia.
---
Pliny the Elder, Natural History 8. 72 (trans. Rackham) (Roman encyclopedia C1st A.D.) :
"Aethiopia (Ethiopia) produces . . . many monstrosities--[including] winged horses armed with horns, called Pegasi."
---