K1.3 ZEUS & THE GIANT PORPHYRION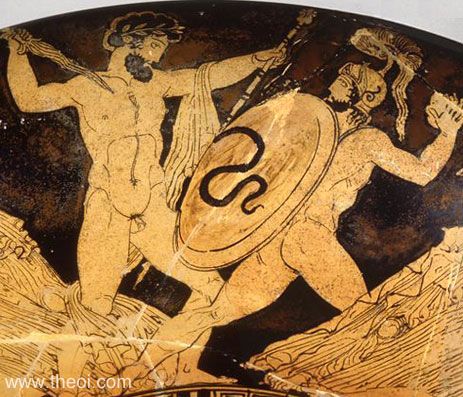 DETAILS

| | |
| --- | --- |
| Museum Collection | Antikensammlung Berlin |
| Catalogue No. | Berlin F2531 |
| Beazley Archive No. | 220533 |
| Ware | Attic Red Figure |
| Shape | Kylix |
| Painter | Signed by Aristophanes |
| Date | ca. 410 - 400 B.C. |
| Period | Classical |
DESCRIPTION
Detail of Zeus battling the giant Porphyrion from a painting of the Gigantomachia (War of the Giants).
Zeus brandishes a lightning-bolt in one hand and holds a royal sceptre in the other. He is crowned with a wreath of laurel or oak and has a cloak draped across his arm. The Gigante is armed with a rock and equipped with a crested helm and a shield painted with a coiling serpent.
This image is a montage of two photos of the vase.
ARTICLES
OTHER IMAGES