GREEK GODS
The gods of the ancient Greek pantheon are divided into various categories on the following pages. The first of these--the Olympian gods, Titan gods, and primordial gods--represent the three generations of deities to rule the cosmos. The next five categories divide the gods by domain, namely the gods of sky, sea, earth (rustic and agrarian), and underworld. The final sections contain the daemones--minor deities or spirits representing abstract ideas, emotions and conditions--and apotheosed mortals.
---
SUMMARY (A SELECTION OF PAGES)
The following categories are designed for ease of reference and are not meant to be definitive.
REALMS OF THE GODS
Elysium, Erytheia, Hades (2 pages), Oceanus, Olympus, Tartarus (2 pages)
OLYMPIAN GODS, MAJOR
Aphrodite (18 pages), Apollo (9 pages), Ares (13 pages), Artemis (15 pages), Athena (9 pages), Demeter (15 pages), Dionysus (14 pages), Hephaestus (12 pages), Hera (6 pages), Hermes (13 pages), Hestia (1 page), Poseidon (6 pages), Zeus (8 pages)
OLYMPIAN GODS, MINOR
Charites, Eileithyia, Eros (4 pages), Erotes, Harmonia, Hebe, Horae, Hygeia, Hymenaeus, Moirae, Muses (3 + 9 pages), Nike, Paeon, Pothos, Tyche <<more>>
PRIMORDIAL GODS
Aether, Ananke, Chaos, Chronos, Erebus, Eros, Gaea (3 pages), Hemera, Nesoi, Nyx, Ourea, Phanes, Pontus, Tartarus, Thalassa, Thesis, Uranus <<more>>
TITAN GODS
Arce, Asteria, Astraeus, Atlas, Aura, Briareus, Clymene, Coeus, Crius, Cronus, Cyclopes, Dione, Epimetheus, Eurynome, Hecatoncheires, Hyperion, Iapetus, Lelantus, Leto, Menoetius, Metis, Mnemosyne, Oceanus, Ophion, Pallas, Perses, Phoebe, Prometheus, Rhea (6 pages), Tethys, Theia, Themis, Titanides Elder, Titans Elder <<more>>
SKY GODS
Aeolus, Anemoi, Astra, Aurae, Boreas, Eos, Eosphorus, Eurus, Harpies, Helius (6 pages), Hesperides, Hesperus, Iris, Nephelae, Notus, Nyx, Selene, Zephyrus, Zeus (8 pages) <<more>>
SEA GODS
Amphitrite, Ceto, Charybdis, Doris, Eurybia, Galatea, Glaucus, Ichthyocentaurs, Leucothea, Nereids, Nereus, Palaemon, Phorcys, Poseidon (6 pages), Proteus, Psamathe, Scylla, Sirens, Telchines, Thaumas, Thetis (4 pages), Triton <<more>>
UNDERWORLD GODS
Acheron, Ascalaphus, Cerberus, Charon, Erinyes (6 pages), Eurynomus, Hades (6 pages), Hecate (3 pages), Judges of the Dead, Macaria, Melinoe, Menoetes, Persephone (8 pages), Styx <<more>>
RUSTIC GODS
Britomartis, Cabeiri, Chiron, Curetes-Dactyls, Dionysus (14 pages), Dryads, Echo, Hermes (13 pages), Naiads, Nymphs (numerous pages), Oreads, Palici, Pan, Potami, Priapus, Satyrs, Silens, Silenus, Zagreus <<more>>
AGRARIAN GODS
Demeter (15 pages), Despoena, Eubouleus, Iacchus, Persephone (8 pages), Plutus, Triptolemus <<more>>
DAEMONES (SPIRITS)
Achlys, Adicia, Aedos, Aletheia, Amphilogiae, Androctasiae, Apate, Aporia, Arete, Ate, Bia, Cacia, Caerus, Coalemus, Cratus, Deimus, Dike, Dolus, Dysnomia, Eleus, Elpis, Enyo, Eris, Erotes, Eucleia, Eunomia, Geras, Horcus, Hybris, Hypnus, Hysminae, Irene, Keres, Lethe, Limus, Litae, Lyssa, Machae, Momus, Neicea, Nemesis, Nike, Oneiri, Peitho, Penia, Pheme, Philotes, Phobus, Phonoi, Poenae, Ponus, Porus, Pseudologi, Sophrosyne, Soteria, Thanatus, Zelus <<more>>
DEIFIED MORTALS
Amphiaraus, Ariadne, Aristaeus, Asclepius (2 pages), Dioscuri, Ganymedes, Heracles, Ino, Leucippides, Melicertes, Oreithyia, Psyche, Trophonius <<more>>
PHRYGIAN & THRACIAN GODS
Agdistis, Attis, Bendis, Cotys, Cybele
---
HESIOD'S FAMILY TREE OF THE GREEK GODS
Hesiod was the author of the Theogony, an ancient Greek poem describing the genealogy of the gods. A graphic chart of Hesiod's family tree can be found here.
A larger set of family trees including all the gods not mentioned by Hesiod is available here.
---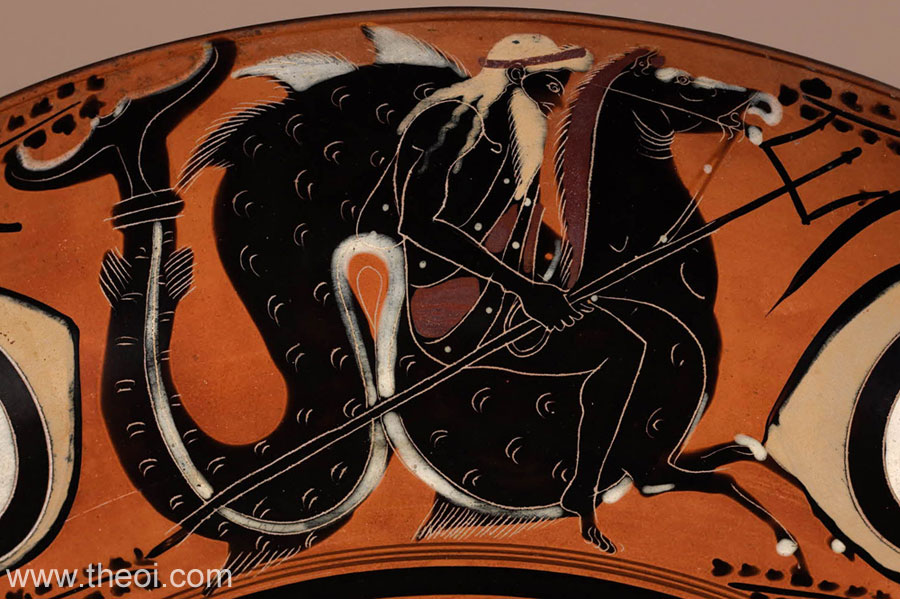 ---