K10.18 THE DUEL OF DIOMEDES & AENEAS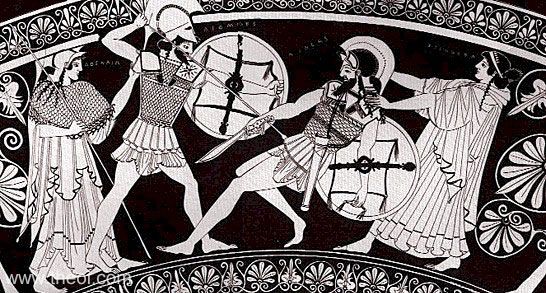 DETAILS

| | |
| --- | --- |
| Museum Collection | Museum of Fine Arts, Boston |
| Catalogue No. | Boston 97.368 |
| Beazley Archive No. | 202631 |
| Ware | Attic Red Figure |
| Shape | Krater, Calyx |
| Painter | Name vase of the Tyszkiewicz Painter |
| Date | ca 490 - 480 B.C. |
| Period | Late Archaic |
DESCRIPTION
Side A: Diomedes battles Aeneas in a scene from Homer's Iliad. Aeneas is wounded by in the thigh by the Greek hero Diomedes. The goddess Athena--equipped with spear, helm and aegis cloak--supports the hero. Aphrodite rushes forward with arms outstretched to rescue her son but will be wounded in the arm by Diomedes.
Side B: Achilles battles Memnon (see other image).
This a drawing of the vase rather than a photograph.
ARTICLES
OTHER IMAGES