K11.13 HERMES & INFANT HERACLES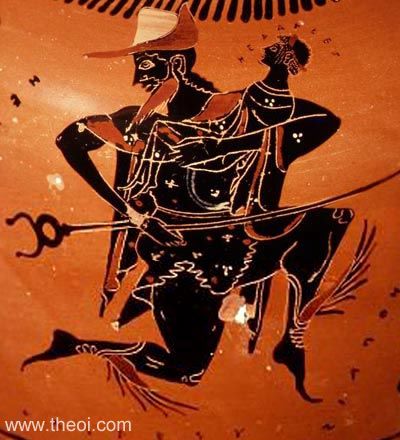 DETAILS

| | |
| --- | --- |
| Museum Collection | Staatliche Antikensammlungen, Munich |
| Catalogue No. | Munich 1615 |
| Beazley Archive No. | 303465 |
| Ware | Attic Black Figure |
| Shape | Amphora, Neck |
| Painter | Attributed to Dot-Band Class |
| Date | ca 550 - 500 B.C. |
| Period | Archaic |
DESCRIPTION
Side A: Hermes carries the infant Heracles to Olympus. Both figures are labelled on the vase. The god holds a herald's wand (kerykeion) and wears a petasos cap, traveller's cloak (chlamys) and winged boots.
Side B: The centaur Chiron (not shown).
This image is a montage of two photos of the vase.
ARTICLES