K31.3 EROS, POTHOS & HIMEROS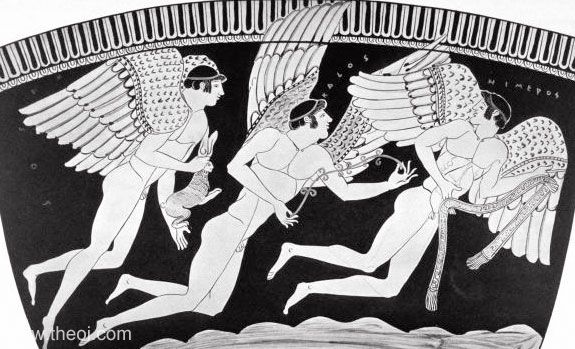 DETAILS

| | |
| --- | --- |
| Museum Collection | British Museum, London |
| Catalogue No. | London 1843,1103.31 |
| Beazley Archive No. | 202628 |
| Ware | Attic Red Figure |
| Shape | Stamnos |
| Painter | Name vase of the Siren Painter |
| Date | ca. 480 - 470 B.C. |
| Period | Late Archaic |
DESCRIPTION
Side A: Odysseus and the Sirens (see other image).
Side B: Three Erotes (winged love-gods) wing their way across the sea bearing love-gifts--a hare, a wreath and a sash. The names of the gods--Eros, Pothos and Himeros--are inscribed on the vase.
This is a drawing of the vase rather than a photograph.
ARTICLES
OTHER IMAGES