K4.6 THE JUDGEMENT OF PARIS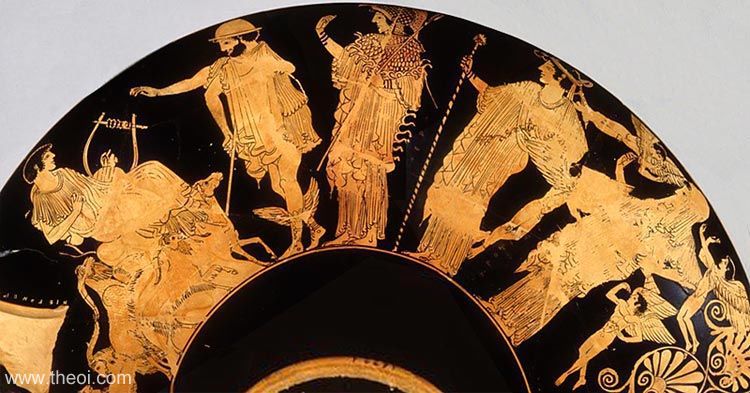 DETAILS

| | |
| --- | --- |
| Museum Collection | Antikensammlung Berlin |
| Catalogue No. | Berlin F2291 |
| Beazley Archive No. | 204685 |
| Ware | Attic Red Figure |
| Shape | Kylix |
| Painter | Attributed to Macron |
| Date | ca 490 - 480 B.C. |
| Period | Late Archaic |
DESCRIPTION
Side A: Hermes leads the goddesses Aphrodite, Athene and Hera to Paris in the contest for the golden apple. The Trojan prince is depicted as a shepherd boy sitting on a rock, playing his lyre and surrounded by sheep. Hermes leads the goddesses, holding a kerykeion (herald's wand) in his hand, and wearing a petasos cap and winged boots. Athena follows crowned with a helm, holding a spear and wearing the snake-trimmed aigis cloak. After her comes Hera holding a royal sceptre, and lastly Aphrodite veiled and surrounded by a host of winged Erotes (Loves).
Side B: Paris leading away Helen (not shown).
This image is a montage of several photos of the vase.
ARTICLES
Hermes, Athena, Hera, Aphrodite, Erotes
OTHER IMAGES