K5.10 THE DUEL OF AJAX & HECTOR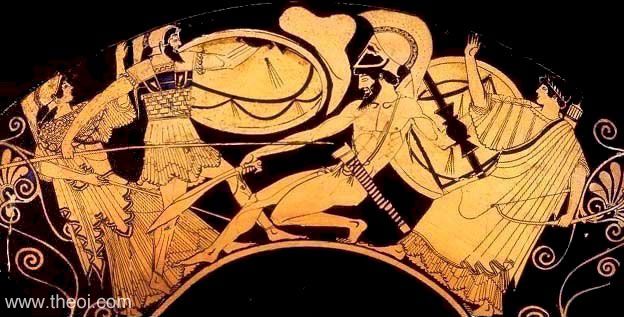 DETAILS

| | |
| --- | --- |
| Museum Collection | Musée du Louvre, Paris |
| Catalogue No. | Louvre G115 |
| Beazley Archive No. | 205119 |
| Ware | Attic Red Figure |
| Shape | Kylix |
| Painter | Signed by Douris |
| Date | ca 485 - 480 B.C. |
| Period | Late Archaic |
DESCRIPTION
Side A: Duel of Paris and Menelaus (see other image).
Side B: Ajax (Aias) battles Hector in a scene from Homer's Iliad. Each of the combatants is supported by a god--behind Ajax stands Athena, wearing a helm and the aegis, and behind Hector stands Apollo, holding a bow and crowned with a wreath of laurel.
Tondo: Eos with body of Memnon (see other image).
This image is a montage of several photos of the vase.
ARTICLES
OTHER IMAGES