K5.5 HERACLES & APOLLO
DETAILS

| | |
| --- | --- |
| Museum Collection | Antikensammlung Berlin |
| Catalogue No. | Berlin F2159 |
| Beazley Archive No. | 200001 |
| Ware | Attic Red Figure |
| Shape | Amphora |
| Painter | Attributed to the Andokides Painter |
| Date | ca. 525 B.C. |
| Period | Archaic |
DESCRIPTION
Apollo and Heracles struggle for the Delphic tripod. Heracles is depicted as a bearded man wearing a lion-skin cloak, and Apollo as a youth with bow in hand. Heracles is supported by Athena who wears a helm and snake-trimmed aigis cloak set with the Gorgon's head. She holds a shield and spear, and wears a high-crested helm. Artemis or the Phthia of Delphi stands behind Apollo holding a plant frond.
This image is a montage of several photos of the vase.
IMAGE DETAIL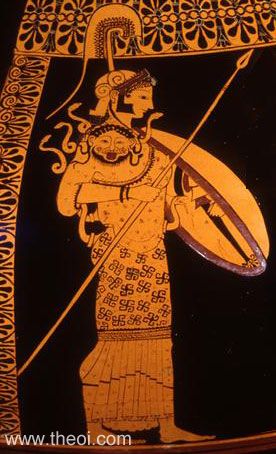 Detail of the goddess Athena.
ARTICLES