K5.6 HERACLES & APOLLO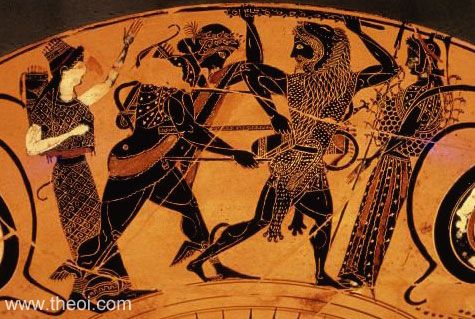 DETAILS

| | |
| --- | --- |
| Museum Collection | Staatliche Antikensammlungen, Munich |
| Catalogue No. | Munich 2080 |
| Beazley Archive No. | 302231 |
| Ware | Attic Black Figure |
| Shape | Kylix |
| Painter | Attributed to the Lysippides Painter |
| Date | ca 525 - 515 B.C. |
| Period | Archaic |
DESCRIPTION
Side A: Heracles and Apollo struggle over the Delphic tripod. Heracles wears his lion-skin cape and is armed with a club. The god Apollo is depicted as a youth with a quiver slung over his shoulder grasping the club of Heracles with one hand. Two goddesses stand in support of each. On one side is Athena wearing the snake-trimmed aigis cloak and on the other stands Artemis with a quiver and crown.
Side B: Heracles and the Nemean Lion (not shown).
Tondo: Gorgoneion (not shown).
ARTICLES