K6.6 THE DEATH OF ACTAEON
DETAILS

| | |
| --- | --- |
| Museum Collection | Musée du Louvre, Paris |
| Catalogue No. | Paris Ca3482 |
| Beazley Archive No. | 207101 |
| Ware | Attic Red Figure |
| Shape | Krater |
| Painter | Attributed to the Painter of the Woolly Satyrs |
| Date | ca. 460 - 440 B.C. |
| Period | Classical |
DESCRIPTION
The youthful hunter Actaeon is transformed into a stag--the metamorphosis is not shown in this image--by the goddess Artemis as punishment for spying upon her bath. He is savaged by his own hounds. The goddess drives a deer-drawn biga chariot. She holds a bow in one hand and wears a crown and veil.
This image is a montage of several images of the vase.
IMAGE DETAIL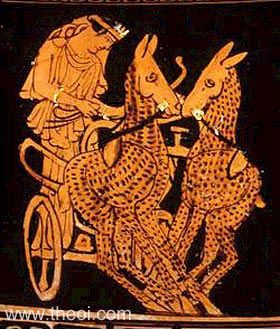 Detail of the chariot of Artemis.
ARTICLES