K7.1 THE RETURN OF HEPHAESTUS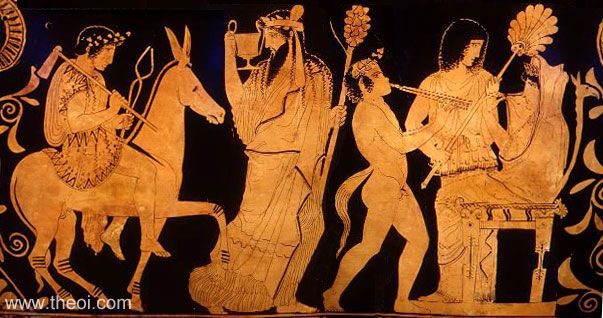 DETAILS

| | |
| --- | --- |
| Museum Collection | Toledo Museum of Art, Toledo |
| Catalogue No. | Toledo 1982.88 |
| Beazley Archive No. | 11777 |
| Ware | Attic Red Figure |
| Shape | Skyphos |
| Painter | Attributed to the Kleophon Painter |
| Date | ca. 430 - 420 B.C. |
| Period | Classical |
DESCRIPTION
Hephaestus returns to Olympus riding a donkey and carrying hammer and tongs. He is led by Dionysus, who bears a thyrsos (pine-cone tipped staff) and drinking cup, and a Satyriscus (child Satyr) playing a flute. Hera sits trapped on a throne--a cursed gift from Hephaestus who wished to punish her for casting him from heaven at birth. She wears a crown and veil and is attended by a goddess, perhaps Hebe, holding a (peacock?) feather fan.
"Hephaistos refused to listen to any other of the gods save Dionysos - in him he reposed the fullest trust - and after making him drunk Dionysos brought him to heaven." - Pausanias, Guide to Greece 1.20.3
This image is a montage of several photos of the vase.
IMAGE DETAIL 1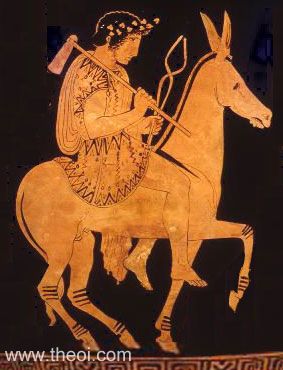 Detail of Hephaestus riding an ass.
IMAGE DETAIL 2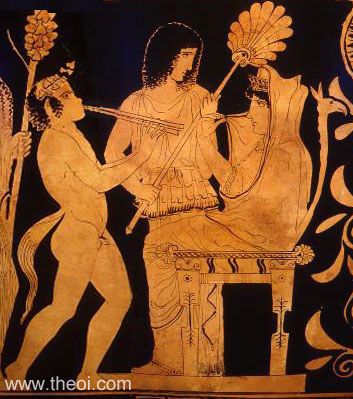 Detail of the goddess Hera.
ARTICLES
Hephaestus, Dionysus, Satyrs, Hera, Hebe