L3.3 GERYON & ORTHRUS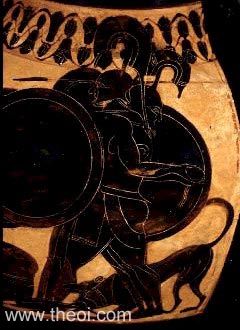 DETAILS

| | |
| --- | --- |
| Museum Collection | Harvard Art Museums, Cambridge |
| Catalogue No. | Harvard 1972.42 |
| Beazley Archive No. | 301042 |
| Ware | Attic Black Figure |
| Shape | Amphora |
| Painter | Attributed to Group E |
| Date | ca. 550 - 530 B.C. |
| Period | Archaic |
DESCRIPTION
Detail of the three-bodied giant Geryon battling Heracles (not shown). The giant is depicted as three men standing side by side, implicitly conjoined at the waist. They are armoured and equipped with shields and spears. The two-headed guard-dog Orthrus crouches at his master's feet.
"Alcmena bore that dauntless son [Heracles], to whom long since the fierce hounds of Geryon yielded in trembling terror." - Pindar, Isthmian Ode
IMAGE DETAIL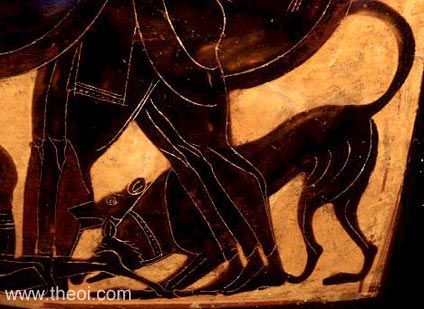 Detail of the hound Orthrus.
ARTICLES