M12.2 HERACLES & CERBERUS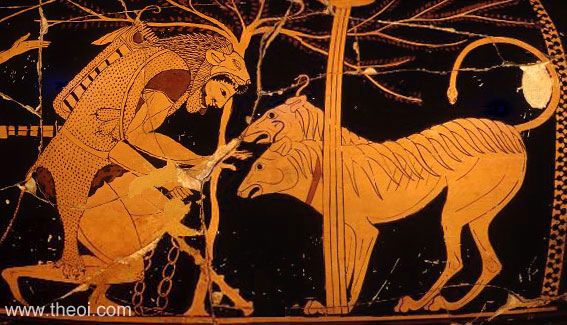 DETAILS

| | |
| --- | --- |
| Museum Collection | Musée du Louvre, Paris |
| Catalogue No. | Louvre F204 |
| Beazley Archive No. | 200011 |
| Ware | Attic Bilingual |
| Shape | Amphora |
| Painter | Attributed to the Andokides Painter and Lysippides Painter |
| Date | ca 520 - 510 B.C. |
| Period | Archaic |
DESCRIPTION
Side A: Heracles, kneeling before the gates of Hades, chains the two-headed, guard dog Cerberus. He is accompanied in his labour by the goddess Athena (not shown). The hero wears a lion-skin cape and quiver of arrows, and holds a club and chain in his hands.
Side B: Dionysus, Ariadne & Satyrs (see other image).
This image is a montage of three photos of the vase.
ARTICLES
OTHER IMAGES