O12.4 PIRITHOUS, LAODAMEIA & THE CENTAUR EURYTION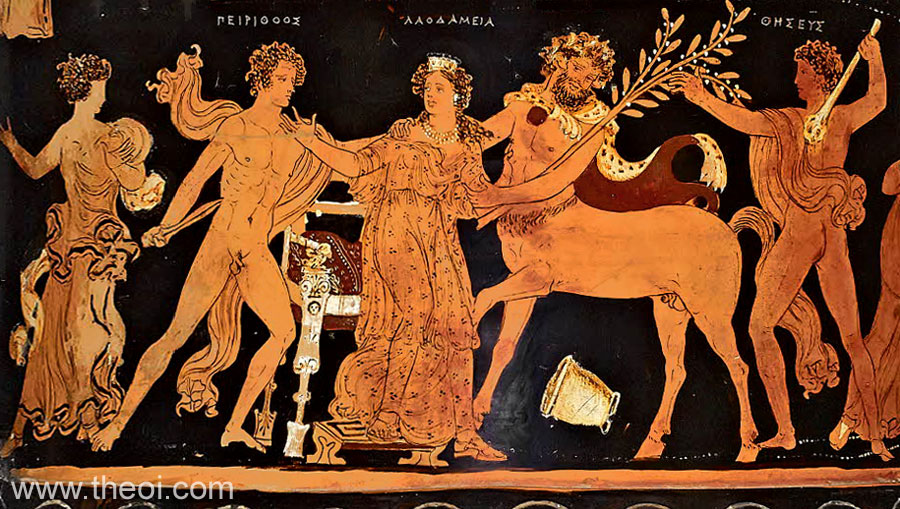 DETAILS

| | |
| --- | --- |
| Museum Collection | British Museum, London |
| Catalogue No. | London 1870,0710.2 |
| Beazley Archive No. | N/A |
| Ware | Apulian Red Figure |
| Shape | Krater, Calyx |
| Painter | Attributed to the Laodamia Painter |
| Date | ca. 350 - 340 B.C. |
| Period | Late Classical |
DESCRIPTION
Side A1: The centaur Eurytion attempts to abduct Pirithous' bride Laodameia from the wedding feast. The half-horse centaur wears an animal-skin cape and a wreath of leaves, and holds a tree-branch in the crook of his arm. A drinking cup lies at his feet. He is flanked by the heroes Pirithous (left), armed with a sword, and Theseus (right), brandishing a club. Laodameia (who is elsewhere named Hippodameia) wears a sheer, embroidered robe, stephane crown, necklace and earrings. The centaur drags her from a cushioned chair.
Side A2: The lovesick Phaedra (see other image).
Side B: Dionysus, Satyrs and Maenads (not shown).
IMAGE DETAIL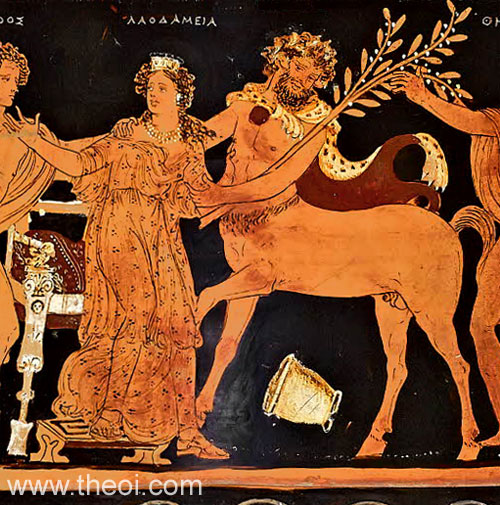 Detail of Laodameia and the Centaur Eurytion.
ARTICLES
OTHER IMAGES