P14.3 THESEUS & THE PALACE OF POSEIDON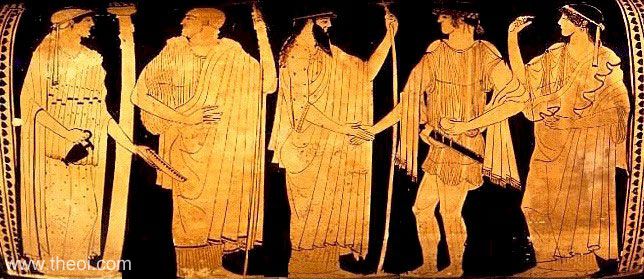 DETAILS

| | |
| --- | --- |
| Museum Collection | Harvard Art Museums, Cambridge |
| Catalogue No. | Harvard 1960.339 |
| Beazley Archive No. | 202875 |
| Ware | Attic Red Figure |
| Shape | Krater, Column |
| Painter | Attributed to the Harrow Painter |
| Date | ca. 480 - 470 B.C. |
| Period | Late Archaic |
DESCRIPTION
Theseus is received in the undersea palace of his father Poseidon. The hero shakes hands with the god. Behind him, Poseidon's queen Amphitrite raises her hand in a pinching gesture. The elderly sea-gods Nereus and Doris stand in the portico. He holds a sceptre and she has a cup and oinochoe jug.
This image is a montage of several photos of the vase.
IMAGE DETAIL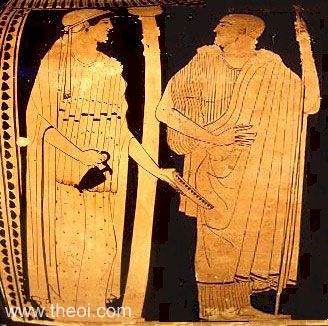 Detail of Nereus and Doris.
ARTICLES