P14.4 FEAST OF THE GODS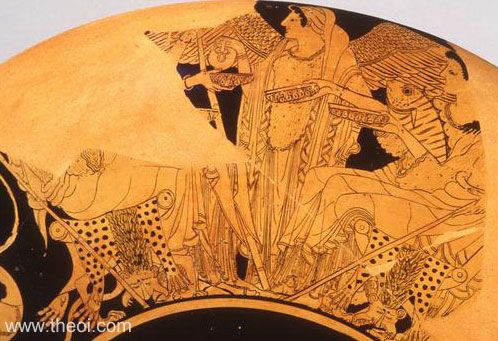 DETAILS

| | |
| --- | --- |
| Museum Collection | Antikensammlung Berlin |
| Catalogue No. | Berlin F2278 |
| Beazley Archive No. | 200108 |
| Ware | Attic Red Figure |
| Shape | Kylix |
| Painter | Name vase of the Sosias Painter |
| Date | ca 500 B.C. |
| Period | Late Archaic |
DESCRIPTION
Side A: Detail of the central figures in a painting depicting the feast of the gods and reception of Heracles on Olympus. A winged goddess, either Iris or Hebe, pours nectar from an oinochoe jug. Zeus and Hera are seated to her left, and Poseidon and Amphitrite to her right, on stools draped with panther-skins. Amphitrite nurses a large fish in her arms.
Other figures in the scene (not shown) are Aphrodite, Ares, Dionysus and Ariadne.
Side B: Heracles enters Olympus. The other figures in this scene are Demeter, Hestia, the Horae, Hermes, Apollo and Athena (see other images).
ARTICLES
Zeus, Hera, Hebe, Iris,Poseidon, Amphitrite
OTHER IMAGES