P29.3 CHIMERA, PEGASUS & BELLEROPHON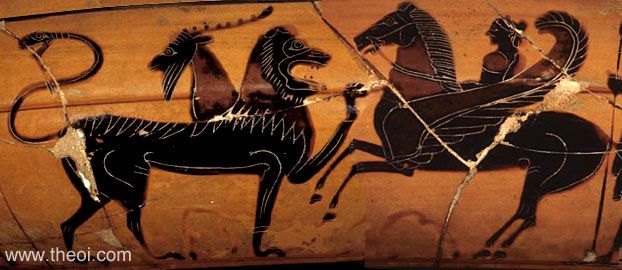 DETAILS

| | |
| --- | --- |
| Museum Collection | Musée du Louvre, Paris |
| Catalogue No. | Louvre A478 |
| Beazley Archive No. | 300597 |
| Ware | Attic Black Figure |
| Shape | Cup, Siana |
| Painter | Attributed to the Heidelberg Painter |
| Date | ca 560 - 550 B.C. |
| Period | High Archaic |
DESCRIPTION
Side A: Bellerophon rides the winged horse Pegasus into battle against the Chimera. The monster is depicted as a lion with a serpent-headed tail and the foreparts of a goat rising from its back.
Side B: Pandareus and the Golden Hound (not shown).
Tondo: Heracles and the centaur Nessos (not shown).
ARTICLES
OTHER IMAGES