T1.3 THE BIRTH OF ERICHTHONIUS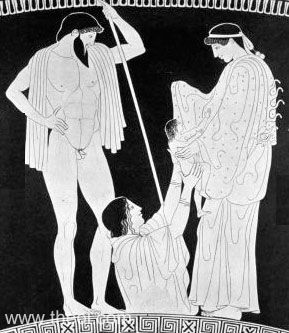 DETAILS

| | |
| --- | --- |
| Museum Collection | Staatliche Antikensammlungen, Munich |
| Catalogue No. | Munich 2413 |
| Beazley Archive No. | 205571 |
| Ware | Attic Red Figure |
| Shape | Stamnos |
| Painter | Name vase of the Painter of Munich 2413 |
| Date | ca 460 B.C. |
| Period | Early Classical |
DESCRIPTION
Side A: Gaea (the Earth) hands her newborn son Erichthonius over to the foster-care of the goddess Athena. Gaea is depicted partially risen from the earth, inseperable from her native element. Athena, wearing the snake-trimmed aegis cloak, receives the infant. She is accompanied by Hephaestus, the father of the child.
Side B: Zeus served by Iris (see other image).
This is a drawing of the vase rather than a photograph.
ARTICLES
OTHER IMAGES