T16.8 IACCHUS & HECATE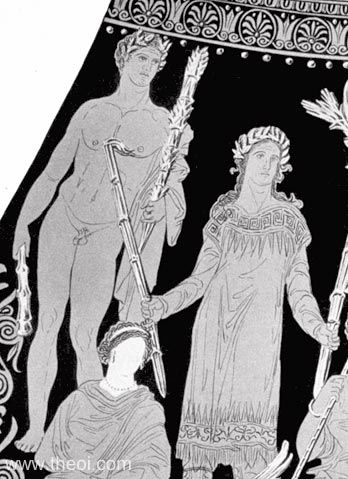 DETAILS

| | |
| --- | --- |
| Museum Collection | State Hermitage Museum, Saint Petersburg |
| Catalogue No. | St Petersburg PAV8 |
| Beazley Archive No. | 230341 |
| Ware | Attic Red Figure |
| Shape | Pelike |
| Painter | Name vase of the Eleusinian Painter |
| Date | ca 350 B.C. |
| Period | Late Classical |
DESCRIPTION
Side A: Detail of Iacchus and Hecate from a painting depicting the gods of the Eleusinian Mysteries. Other figures (not shown) include Demeter, Plutus, Persephone, Eros, Triptolemus, Heracles, Zeus and Nike. Iacchus is crowned with a wreath and holds a pair of torches in his hands--one upturned and one downturned. Hecate, standing between the enthroned goddesses Demeter and Persephone, holds a pair of flaming brands.
Side B: The birth of Erichthonius (not shown).
This is a drawing of the vase rather than a photograph.
ARTICLES