T19.8 EOS & CEPHALUS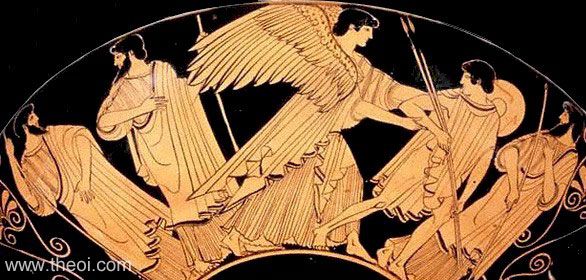 DETAILS

| | |
| --- | --- |
| Museum Collection | The J. Paul Getty Museum, Malibu |
| Catalogue No. | Malibu 84.AE.569 |
| Beazley Archive No. | 16200 |
| Ware | Attic Red Figure |
| Shape | Kylix |
| Painter | Douris |
| Date | ca 480 B.C. |
| Period | Late Archaic / Early Classical |
DESCRIPTION
Side A: Eos pursues the youthful hunter Cephalus, seizing him from a company of Athenians--including King Cecrops and the prince Pandion. The dawn-goddess is winged and the youth wears a petasos cap and holds a pair of hunting spears.
Side B: Zeus pursuing Ganymedes (see other image).
Tondo: Zeus and Ganymedes on Olympus (see other image).

ARTICLES
OTHER IMAGES