T51.1 WINEMAKING SILENS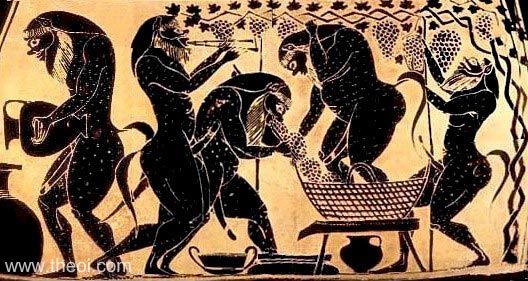 DETAILS

| | |
| --- | --- |
| Museum Collection | Martin von Wagner Museum, Würzburg |
| Catalogue No. | Würzburg L265 |
| Beazley Archive No. | 310451 |
| Ware | Attic Black Figure |
| Shape | Amphora |
| Painter | Attributed to the Amasis Painter |
| Date | ca 530 - 520 B.C. |
| Period | - |
DESCRIPTION
Side A: A group of Silens (or Lenae) produce wine--one picks grapes from a vine, another casts them into a vat, a third treads the trough, a fourth plays a double-flute, and the fifth pours the juice into a pithos jar for fermentation. The Silens are depicted as plump, old men with pug noses, assine ears and tails, and large, erect members.
Side B: Dionysus and Silens (not shown).
This image is montage of several photos of the vase.
ARTICLES