T92.2 PYGMIES BATTLING CRANES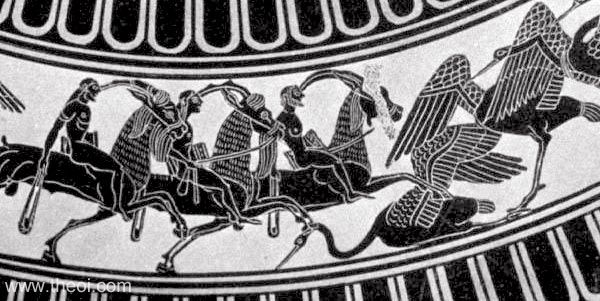 DETAILS

| | |
| --- | --- |
| Museum Collection | National Archaeological Museum of Florence |
| Catalogue No. | Florence 4209 |
| Beazley Archive No. | 300000 |
| Ware | Attic Black Figure |
| Shape | Krater, Volute |
| Painter | Signed by Kleitias |
| Date | ca 570 - 560 B.C. |
| Period | High Archaic |
DESCRIPTION
Pygmies, mounted on goats and armed with slings, battle a flock of cranes.
"The clamour of cranes goes hight to the heavens, when the cranes escape the winter time and the rains unceasing and clamorously wing their way to streaming Okeanos, bringing the Pygmaioi men bloodshed and destruction: at daybreak they bring on the baleful battle against them." - Homer, Iliad 3.3
This is a drawing of the vase rather than a photograph.
ARTICLES
OTHER IMAGES