AKRATOS
Translation
Unmixed-Wine (akratos)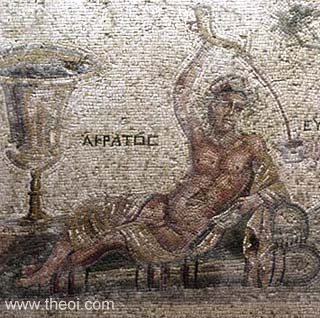 AKRATOS (Acratus) was the demi-god (daimon) of the drinking of unmixed wine. The Greeks traditionally drank their wine mixed with water so Akratos was no doubt regarded as a deity of festive excess.
He was an attendant of the god Dionysos and a companion of Euphrosyne (Good Cheer).
---
PARENTS
Nowhere stated
---
CLASSICAL LITERATURE QUOTES
Pausanias, Description of Greece 1. 2. 5 (trans. Jones) (Greek travelogue C2nd A.D.) :
"[In the shrine of Dionysos at Athens :] Here there are images of . . . Apollon . . . and Akratos (Acratus), a daimon attendant upon Apollon; it is only a face of him worked into the wall."
Athenaeus, Deipnosophistae 39c - 39d (trans. Gullick) (Greek rhetorician C2nd to C3rd A.D.) :
"Polemos says that in Mounykhia (Munychia) [in Attika] honours are paid to a hero [or daimon] Akratopotes (Acratopotes, Drinker of Unmixed Wine), and that among the Spartans statues of heroes [or daimones] named Matton (Kneader) and Keraon (Ceraon, Mixer) have been set up by certain cooks in the public mess."
---
ALTERNATE NAME SPELLINGS
Transliteration
Akratopotês
Latin Spelling
Acratopotes
Translation
Drinking of Neat Wine (akratopoteô)
---
SOURCES
GREEK
OTHER SOURCES
Other references not currently quoted here: Polemo Historicus 40 (Keraon and Akratopotes).
BIBLIOGRAPHY
A complete bibliography of the translations quoted on this page.