POLYBOTES
Transliteration
Polybôtês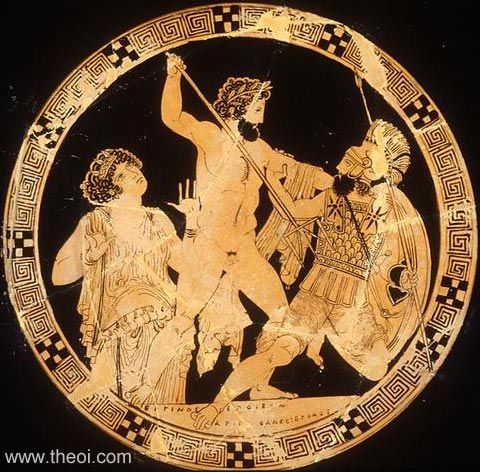 POLYBOTES was one of the Gigantes (Giants) who battled Poseidon in the war against the gods. He was pursued across the sea and crushed beneath the rock of Nisyros near the island of Kos (Cos).
His name means "fertile" from the Greek word polybôtos or, more literally, "feeding-many" from the words poly- and bôtos.
---
FAMILY OF POLYBOTES
PARENTS
[1.1] Blood of OURANOS & GAIA (Apollodorus 1.34)
[1.2] TARTAROS & GAIA (Hyginus Preface)
---
ENCYCLOPEDIA
POLYBO′TES (Polubôtês), a giant, who in the contest between the gods and giants was pursued by Poseidon across the sea as far as the island of Cos. There Poseidon tore away a part of the island, which was afterwards called Nisyrion, and throwing it upon the giant buried him under it. (Apollod. i. 6. § 2; Paus. i. 2. § 4 ; Strab. x. p. 489.)
Source: Dictionary of Greek and Roman Biography and Mythology.
---
CLASSICAL LITERATURE QUOTES
Pseudo-Apollodorus, Bibliotheca 1. 37 (trans. Aldrich) (Greek mythographer C2nd A.D.) :
"[In the War of the Gigantes (Giants) :] [The Gigante] Polybotes was pursued through the sea by Poseidon until he reached Kos (Cos). There Poseidon ripped off the part of that island called Nisyros (Nisyrus) and threw it at him."
Strabo, Geography 10. 5. 16 (trans. Jones) (Greek geographer C1st B.C. to C1st A.D.) :
"They say that [the island of] Nisyros is a fragment of Kos (Cos), and they add the myth that Poseidon, when he was pursuing one of the Gigantes (Giants), Polybotes, broke off a fragment of Kos with his trident and hurled it upon him, and the missile became an island, Nisyros, with the Gigante lying beneath it. But some say that he lies beneath Kos."
Pausanias, Description of Greece 1. 2. 4 (trans. Jones) (Greek travelogue C2nd A.D.) :
"Not far from the temple [of Demeter at Athens] is Poseidon on horseback, hurling a spear against the Gigante (Giant) Polybotes, concerning whom is prevalent among the Koans (Coans) the story about the promontory Khelone (Chelone)."
Pseudo-Hyginus, Preface (trans. Grant) (Roman mythographer C2nd A.D.) :
"From Terra (Earth) [Gaia] and Tartarus [were born] : Gigantes (Giants) Enceladus . . . Typhon, Polybotes [and others in a list of the Gigantes]."
---
ANCIENT GREEK ART
SOURCES
GREEK
Apollodorus, The Library

- Greek Mythography C2nd A.D.

Strabo, Geography

- Greek Geography C1st B.C. - C1st A.D.

Pausanias, Description of Greece

- Greek Travelogue C2nd A.D.
ROMAN
BIBLIOGRAPHY
A complete bibliography of the translations quoted on this page.