THYSA
Translation
Bacchic Frenzy (thysa)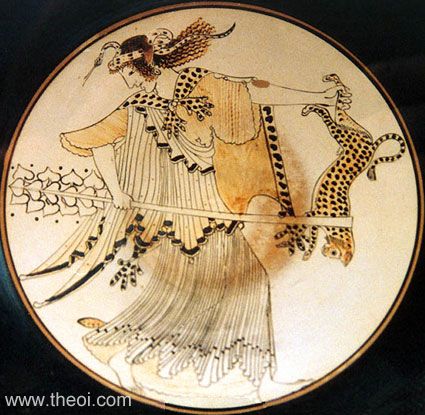 THYSA was the goddess-nymph of the wild frenzy of the Bacchic Orgies. She was a daughter and close companion of the god Dionysos.
Thysa was probably identified with Thyone, the mother of Dionysos in the guise of goddess of the Bacchic frenzy, and Thyia, a nymph who presided over the Bacchic rites at Delphoi.
---
PARENTS
DIONYSOS (Euripides Palamedes Frag, Strabo 10.3.13)
---
CLASSICAL LITERATURE QUOTES
Strabo, Geography 10. 3. 13 (trans. Jones) (Greek geographer C1st B.C. to C1st A.D.) :
"And in the Palamedes [a play by Euripides] the Chorus says, 'Thysa, daughter of Dionysos, who on Ida rejoices with his dear mother in the Iakkhic (Iacchic) revels of tambourines.'"
---
SOURCES
GREEK
Strabo, Geography

- Greek Geography C1st B.C. - C1st A.D.
BIBLIOGRAPHY
A complete bibliography of the translations quoted on this page.