NULOI
Transliteration
Nuloi, Nouloi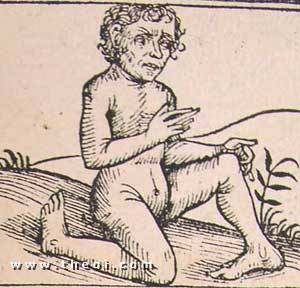 THE NULOI (Nuli) were a tribe of Indian men with backward-facing, eight-toed feet.
The original Greek spelling of their name--Pliny was quoting the Greek writer Megasthenes--would have been Nuloi or Nouloi.
---
CLASSICAL LITERATURE QUOTES
Pliny the Elder, Natural History 7. 23 (trans. Rackham) (Roman encyclopedia C1st A.D.) :
"Megasthenes [Greek historian C4th B.C.] states that on the [Indian] mountain named Nulus there are people with their feet turned backwards and with eight toes on each foot."
---
SOURCES
ROMAN
Pliny the Elder, Natural History

- Latin Encyclopedia C1st A.D.
BIBLIOGRAPHY
A complete bibliography of the translations quoted on this page.