BLEMMYES
Greek Name
Βλεμμυας
Βλεμμυαι Βλεμμυες
Transliteration
Blemmyas
Blemmyai, Blemmyes
Latin Spelling
Blemmyas
Blemmyae, Blemmyes
Translation
Gazing from the Middle
(blemma, mesos)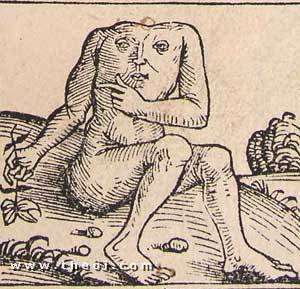 THE BLEMMYAI (Blemmyae), also known as Sternophthalmoi or "Chest-Eyes", were a tribe of headless, African men with their faces set upon their chests.
The Chest-Eyes were popular in Medieval bestiaries and in the Terra Incognita illustrations of maps.
---
CLASSICAL LITERATURE QUOTES
Herodotus, Histories 4. 191. 3 (trans. Godley) (Greek historian C5th B.C.) :
"For the eastern region of Libya [i.e. North Africa], which the nomads inhabit, is low-lying and sandy as far as the Triton river; but the land west of this, where the farmers live, is exceedingly mountainous and wooded and full of wild beasts. In that country are the huge snakes and the lions, and the elephants and bears and asps, the horned asses, the Dog-Headed (Kynokephaloi) and the Headless (Akephaloi) men that have their eyes in their chests, as the Libyans say, and the wild men and women, besides many other creatures not fabulous."
Pliny the Elder, Natural History 7. 23 (trans. Rackham) (Roman encyclopedia C1st A.D.) :
"Ctesias [Greek historian C4th B.C.] writes that . . . westward from these [the Troglodytoi of the Red Sea coast of Africa] there are some people without necks, having eyes in their shoulders."
---
ALTERNATE NAMES
Greek Name
Στερνοφθαλμος
Στερνοφθαλμοι
Ακεφαλος
Ακεφαλοι
Transliteration
Sternophthalmos
Sternophthalmoi
Akephalos
Akephaloi
Latin Spelling
Sternophthalmus
Sternophthalmi
Acephalus
Acephali
Translation
Chest-Eyes
(sternos, thalmos)
Headless
(a-, kephalê)
---
SOURCES
GREEK
Herodotus, Histories

- Greek History C5th B.C.
ROMAN
Pliny the Elder, Natural History

- Latin Encyclopedia C1st A.D.
BIBLIOGRAPHY
A complete bibliography of the translations quoted on this page.