PEGASOS AITHIOPIKOS
Greek Name
Πηγασος Αιθιοπικος
Πηγασοι Αιθιοπικοι
Transliteration
Pêgasos Aithiopikos
Pêgasoi Aithiopikoi
Latin Spelling
Pegasus Aethiopicus
Pegasi Aethiopici
Translation
Ethiopian Pegasus Ethiopian Pegasi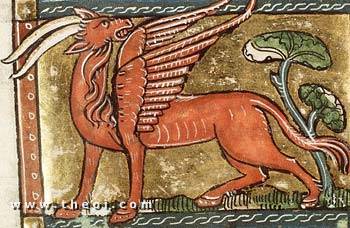 THE PEGASOS AITHIOPIKOS (Ethiopian Pegasus) was a breed of winged, horned horse native to Aithiopia (Ethiopia) in sub-Saharan Africa.
They were derived from Pegasos, the celebrated horse of Greek myth, who was himself said to have been born on the shores of the Red Sea near Aithiopia.
---
CLASSICAL LITERATURE QUOTES
Pliny the Elder, Natural History 8. 72 (trans. Rackham) (Roman encyclopedia C1st A.D.) :
"Aethiopia (Ethiopia) produces . . . many monstrosities--[including] winged horses armed with horns, called Pegasi."
---
SOURCES
ROMAN
Pliny the Elder, Natural History

- Latin Encyclopedia C1st A.D.
BIBLIOGRAPHY
A complete bibliography of the translations quoted on this page.