THERES INDIKOI
Transliteration
Thêres Indikoi
Latin Spelling
Theres Indici
Translation
Indian Beasts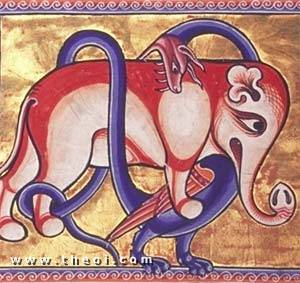 THE THERES INDIKOI (Indian Beasts) were the wild beasts of India as described by ancient writers. They ranged from the mundane--lions, elephants, camels, etc.--to fantastical creatures like dragon-serpents, unicorns and griffins.
---
---
INDIAN BESTIARY
LIST OF NORMAL ANIMALS
ELEPHANTOS The Indian Elephant was known to the ancients.
HIPPOPOTAMOS The Hippopotami of the Indos river were reported by ancient travellers.
KROKODILOS The Crocodiles of the Indos river were known to the ancients from traveller's accounts.
LEON Lions were native to Ancient Greece itself, as well as Asia Minor, the Middle East and India.
PARDALIS Leopards were native to Ancient Greece itself, Asia Minor, the Middle East and India.
TIGRIS The Greeks knew of tigers inhabiting Armenia, Persia and India.
---
LIST OF FANTASTIC CREATURES
DRAKON INDIKOS (Indian Dragon) A gigantic breed of dragon-serpent which preyed upon the Indian elephant.
GRYPS (Griffin) A fantastic beast with the fore-parts of an eagle and the body of a lion.
HELMIS INDIKOS (Indian Worm) A type of gigantic worm which inhabited the River Indos (Indus).
KETE INDIKOI (Indian Sea-Monsters) A range of hybrid sea-monsters with the foreparts of land mammals--such as lions, rams and wolves--and the bodies of serpentine fish. Their number also included a mermaid-like monster with the upper body of a spiny-haired woman.
MARTIKHORAS (Manticore) A fabulous leonine animal with the face of a man and a spiky, missile-firing tail.
MONOKERAS HIPPOS (Unicorn Horse) A pure white horse prized for its single, multicolored, magical horn.
MYRMEX INDIKOS (Indian Ant) A breed of giant ant which guarded rich deposits of gold in the Indian desert.
PHOINIX (Phoenix) A magical bird which migrated from India to Egypt to die and be reborn in flame.
---
SOURCES
OTHER SOURCES
See the individual creature pages.
BIBLIOGRAPHY
A complete bibliography of the translations quoted on this page.