HUS KLAZOMENAIOS
Greek Name
Ὑς Κλαζομεναιος
Transliteration
Hus Klazomenaios
Latin Spelling
Hus Clazomenaeus
Translation
Clazomenean Sow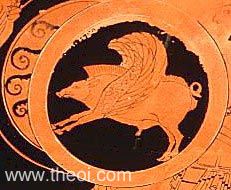 THE HUS KLAZOMENAIOS (Clazomenean Sow) was a giant winged boar which terrorized the Greek town of Klazomenai (Clazomenae) in Ionia, Asia Minor.
---
PARENTS
Nowhere stated, but see Khrysaor
---
CLASSICAL LITERATURE QUOTES
Aelian, On Animals 12. 38 (trans. Scholfield) (Greek natural history C2nd A.D.) :
"I have heard that on Klazomenai (Clazomenae) [an island west of Smyrna] there was a sow with wings, and it ravaged the territory of Klazomenai. And Artemon records this in his Annals of Klazomenai. That is why there is a spot named and celebrated as 'The Place of the Winged Sow,' and it is famous. But if anyone regards this as myth, let him do so."
---
SOURCES
GREEK
Aelian, On Animals

- Greek Natural History C2nd - 3rd A.D.
BIBLIOGRAPHY
A complete bibliography of the translations quoted on this page.