The Greek god of animals is the Greek goddess Artemis. She is the daughter of Zeus, the god of the sky, and Leto, the goddess of motherhood. Her twin brother is Apollo, the god of medicine, music, and poetry. In addition to animals, Artemis is also the goddess of hunting and nature.
The Early Life of Artemis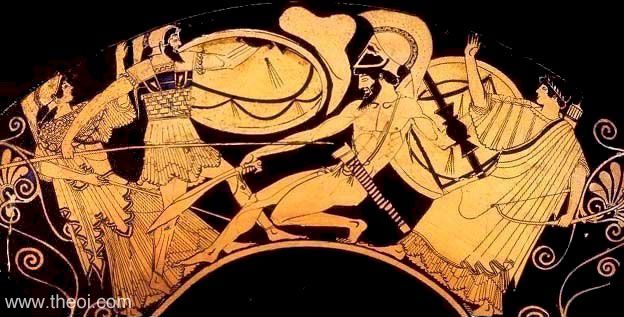 Artemis and Apollo were twins, but Artemis was born one day earlier than Apollo. She became a guardian of Apollo, who led to her nurturing and protective demeanor. She valued her innocence and asked Zeus to grant her eternal virginity; something that would lead to the death of Orion and Actaeon.
Artemis: More than the goddess of Animals
While Artemis is the goddess of animals, she was also a valiant protector of those around her, especially her parents, Zeus and Leto. Artemis often transformed into animals in order to kill those who had done wrong. Artemis was given gifts that included a silver bow and hunting dogs, and she would often be depicted with these items when portrayed.
Artemis and Orion
When Artemis was just three years old, she asked Zeus to grant her eternal virginity. Artemis valued her virginity even when she found companionship in another, including Orion. Orion was the son of Poseidon and was a great hunter. Orion and Artemis became great friends and would often hunt together. Their friendship looked romantic to onlookers because they were often seen together.
One night, Orion and Artemis went hunting and built a fire when they had finished hunting. They had fallen asleep together when the night was over. Apollo noticed the smoke from the fire in the woods and went to investigate.
Apollo came upon Artemis and Orion, who were asleep and lying with one another. Apollo was angry that Artemis would break her promise to Zeus that she wanted eternal virginity, so he decided that Orion needed to be killed.
Apollo sent upon a large scorpion to kill Orion. Orion attempted to slay the scorpion, but he could not pierce his thick skin. The scorpion chased Orion to the sea where Orion attempted to outswim the scorpion.
Unsure if Orion would be killed by the scorpion, Apollo went to Artemis and made up a lie. Apollo told Artemis that her friend, Opos, had been raped by Candaon and that Candaon was attempting to flee by swimming through the sea towards a deserted island.
Artemis was infuriated that Candaon would rape her friend, so she went to the sea where she was told Candaon was swimming. Apollo showed Artemis where Candaon was swimming but did not tell her he was lying about who was swimming. Apollo continued to lie and say that Candaon was swimming to avoid her wrath and get away with what he had done.
Artemis did not notice that Candaon was actually her friend Orion who was attempting to outrun a scorpion. Artemis used her bow to draw back an arrow and shoot Candaon for raping Opos. After firing the deadly shot and striking Candaon in the head, Artemis went to visit Opos to tell her that Candaon was dead.
When Artemis visited Opos, she was taken aback by the news that Candaon had not raped her. In fact, she had not been raped at all and was perfectly fine. Artemis went back to the sea to see who she had killed when she noticed it was her dear friend Orion.
Orion was dead from her arrow, so Artemis killed the scorpion that was chasing him. Orion and the scorpion were placed in a constellation in the sky side-by-side. The constellation features Orion being chased by a giant scorpion.