Apollo is one of the Twelve Olympians. The Twelve Olympians are the major deities that lived on Mount Olympus. Apollo is the Greek god of music, poetry, healing, and medicine. He is the son of Olympian god Zeus and Titan goddess Leto. He had a twin sister Artemis who he often accompanies in his myths.
These are 5 unbelievable facts that you might not know about Apollo, the Greek god of music, poetry, healing, and medicine.
1. Apollo Did Not Invent the Lyre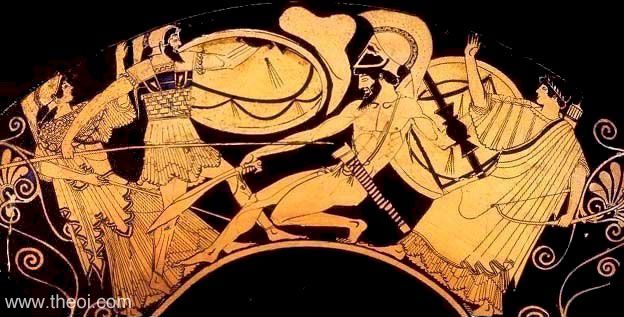 Apollo is often credited for inventing the lyre, a musical instrument made out of strings and a tortoise shell, but it is actually the trickster Hermes who invented the instrument.
One day, Hermes had stolen several of Apollo's cattle. When Apollo discovered his cattle were missing, he went looking for them and found Hermes was the one who had taken them. Hermes was a fellow Olympian and was the Greek god of many things, including travel, trickery, and thievery.
Apollo demanded that Hermes return his cattle. Instead, Hermes began playing music on his lyre, and Apollo could not resist. As the Greek god of music, he was mesmerized by the music and asked Hermes for the instrument. Hermes agreed that he would let Apollo have the lyre if he could keep his cattle in return. Apollo agreed and was often seen depicted with the lyre or even credited with inventing the lyre ever since.
2. Apollo has a Twin Sister: Artemis
Artemis is the Greek goddess of hunting and animals, and she was only one of three virgin goddesses. Because she was the Greek goddess of hunting and animals, she is often depicted with a bow and arrow. Fellow hunter, Orion, became best friends with Artemis, and they would often hunt together both during the day and at night.
Apollo was worried that his twin sister had not upheld her promise to remain pure, so he decided to get rid of Orion. Apollo lied to his sister and said that Orion was an evil villain who had just come into their city and raped one of her best friends and he was now fleeing by swimming out to sea.
Artemis was furious and immediately hunted down this villain. She saw him swimming out to sea, so she pulled back an arrow and fatally shot him, only to find out that it was Orion whom she killed.
3. Apollo Helps the Trojans in the Trojan War
Apollo was one of the only Greek deities who helped the Trojans in the Trojan War. While most of the gods and goddesses helped the Greek soldiers, Apollo helped Troy. This is because one of the Greek leaders had abducted a young Trojan woman and taken her for his own. The father of the Trojan woman was a priest to Apollo.
Apollo was angry that the Greeks would do this, so he helped Hector and the Trojans fight the Greek armies; significantly, it was Apollo's guide of Paris's arrow that allowed Achilles to be struck in the heel and killed.
4. Symbols Associated with Apollo
Apollo has many symbols that are associated with him and his variety of powers and strengths.
Some of the most well-known symbols associated with Apollo are the lyre, a bow and arrow, a laurel wreath, a raven, and the rays of the sun.
5. Apollo's Children
Apollo had two well-known sons. His most notable child would be his son, Orpheus, who was thought to be able to play the lyre better than Apollo himself. His other son was Asclepius. While Apollo gave his gift of music to his son Orpheus, Apollo would give Asclepius his power of healing and medicine.