M29.1 PHRIXUS, HELLE & THE GOLDEN RAM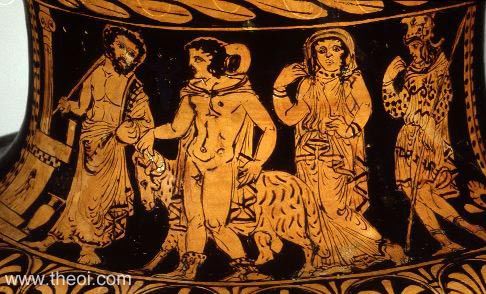 DETAILS

| | |
| --- | --- |
| Museum Collection | Harvard Art Museums, Cambridge |
| Catalogue No. | Harvard 1960.367 |
| Beazley Archive No. | N/A |
| Ware | Lucanian Red Figure |
| Shape | Nestoris |
| Painter | Attributed to the Choephoroi Painter |
| Date | ca 350 - 340 B.C. |
| Period | Late Classical |
DESCRIPTION
Side A1: The children Phrixus and Helle are rescued by the golden-fleeced ram Chrysomallus as they are about to be sacrificed to the gods by their father Athamas. Alternatively, the painting might depict Phrixus sacrificing the golden-fleeced ram at Colchis accompanied by King Aeetes and his daughter Chalciope, the hero's bride.
Side A2: The death of Actaeon (see other image).
Side B: Orestes and the Erinyes (see other image).

This image is a montage of several photos of the vase.
ARTICLES
OTHER IMAGES