T40.2 THE PURIFICATION OF ORESTES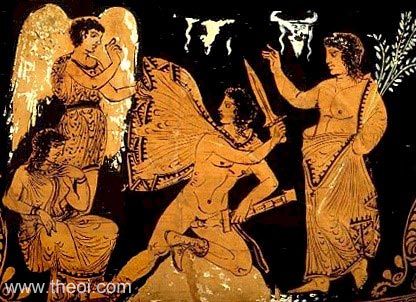 DETAILS

| | |
| --- | --- |
| Museum Collection | Harvard Art Museums, Cambridge |
| Catalogue No. | Harvard 1960.367 |
| Beazley Archive No. | N/A |
| Ware | Lucanian Red Figure |
| Shape | Nestoris |
| Painter | Attributed to the Choephoroi Painter |
| Date | ca 350 - 340 B.C. |
| Period | Late Classical |
DESCRIPTION
Side A: Phrixus and the Golden Ram (see other image). The death of Actaeon (see other image).
Side B: Orestes is purified of the crime of matricide at Delphi. The hero kneels upon the omphalos stone and brandishes a sword. The god Apollo stands behind him holding a branch of laurel in one hand with the other raised to ward off the Erinys. The ghost of Clytemnestra sits below her avenging Erinys (Fury).
This image is a montage of several photos of the vase.
ARTICLES
OTHER IMAGES