N16.2 NEMESIS & THE DIOSCURI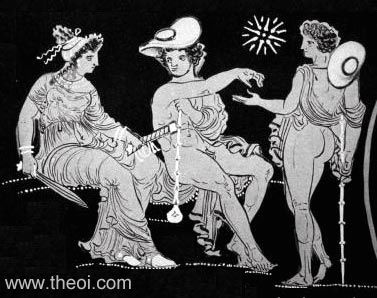 DETAILS

| | |
| --- | --- |
| Museum Collection | Staatliche Antikensammlungen, Munich |
| Catalogue No. | Munich 3297 |
| Beazley Archive No. | N/A |
| Ware | Apulian Red Figure |
| Shape | Krater, Volute |
| Painter | Name vase of the Underworld Painter |
| Date | ca. 330 - 310 B.C. |
| Period | Late Classical / Early Hellenistic |
DESCRIPTION
Detail of Nemesis and the Dioscuri from a painting depicting Heracles' journey to the underworld.
Nemesis, goddess of retribution, holds a sword in one hand and scabbard in the other. The twins wear traveller's caps, hold knotted staves and are accompanied by a star--probably representing St Elmo's fire.
This is a drawing of the vase rather than a photograph.
ARTICLES
OTHER IMAGES