O6.5 HIMEROS & PEITHO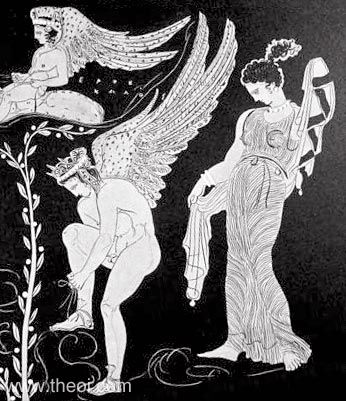 DETAILS

| | |
| --- | --- |
| Museum Collection | Regional Archaeological Museum Antonio Salinas, Palermo |
| Catalogue No. | Palermo 21887 |
| Beazley Archive No. | 220558 |
| Ware | Attic Red Figure |
| Shape | Krater, Calyx |
| Painter | In the Manner of the Pheidias Painter |
| Date | ca 420 B.C. |
| Period | Classical |
DESCRIPTION
Side A: Detail of the gods Eros (Love), Himeros (Desire) and Peitho (Persuasion) from a painting depicting the love of Aphrodite and Phaon. Eros is depicted as a winged child riding a pair of deer. Below him, the winged youth Himeros ties his sandal. On the right, Peitho draws her cloak in a seductive pose.
Side B: The gods of Delos (see other image).
This is a drawing of the vase rather than a photograph.
ARTICLES
OTHER IMAGES