T14.7 THE GODS OF DELOS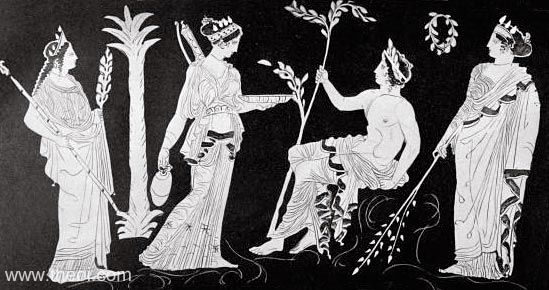 DETAILS

| | |
| --- | --- |
| Museum Collection | Regional Archaeological Museum Antonio Salinas, Palermo |
| Catalogue No. | Palermo 21887 |
| Beazley Archive No. | 220558 |
| Ware | Attic Red Figure |
| Shape | Krater, Calyx |
| Painter | In the Manner of the Pheidias Painter |
| Date | ca 420 B.C. |
| Period | Classical |
DESCRIPTION
Side A: The love of Aphrodite and Phaon (see other image).
Side B: The gods of Delos stand beside the sacred palm-tree of the shrine of Apollo. Leto, on the far left, wears a tiara-crown and holds a royal sceptre and palm-frond. Artemis, standing beside her, is also crowned, wears a quiver, and holds an oinochoe jug and a plate. Apollo, who is seated on a rock, wears a wreath and holds a branch of laurel. Delos-Asteria, on the far right, is similarly crowned and bears a branch.
This is a drawing of the vase rather than a photograph.
ARTICLES
Leto, Artemis, Apollo, Asteria-Delos
OTHER IMAGES