P12.3B PELEUS, THETIS & NEREIDS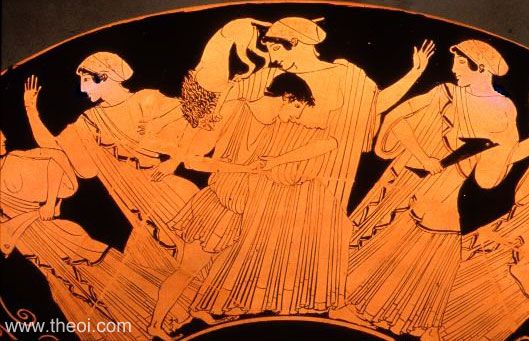 DETAILS

| | |
| --- | --- |
| Museum Collection | Staatliche Antikensammlungen, Munich |
| Catalogue No. | Munich 2648 |
| Beazley Archive No. | 205230 |
| Ware | Attic Red Figure |
| Shape | Kylix |
| Painter | Attributed to Douris |
| Date | ca 490 - 470 B.C. |
| Period | Late Archaic |
DESCRIPTION
Side A: Peleus wrestles the Nereid Thetis seeking to capture her as his bride. The small lion standing on her shoulder represents her powers of metamorphosis. The pair are surrounded on both sides by fleeing Nereids, some holding small dolphins or fish in their hands.
Side B: Nereus and fleeing Nereids (see other image).
Tondo: Heracles and Athena (see other image).
This image is a montage of several photos of the vase.
ARTICLES
OTHER IMAGES