Athena is often considered to be the best Greek goddess of all the gods and goddesses. She is known as the goddess of knowledge, wisdom, crafts, civilization, and justice. Out of all the gods and goddesses, Athena's advice was sought after the most.
While we know that Athena is the Greek goddess of knowledge, let's look at some other interesting facts about this noble Greek goddess.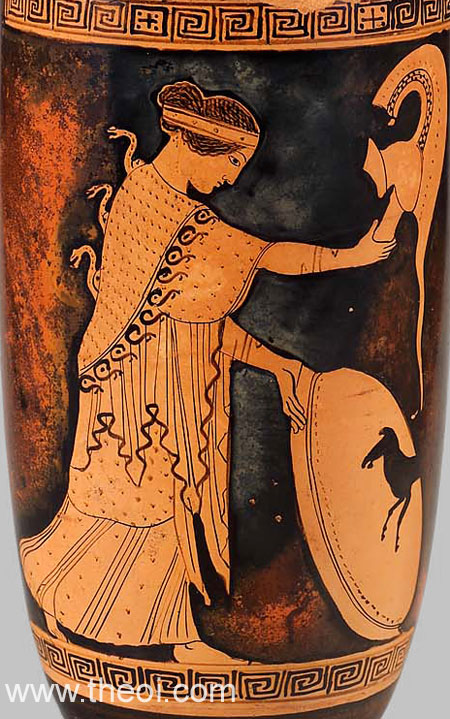 Athena is One of the Twelve Olympians
The Twelve Olympians in Greek mythology are the most respected major deities of the Greek pantheon. Aside from Athena, the Twelve Olympians include Greek gods and goddesses Zeus, Hera, Poseidon, Demeter, Apollo, Artemis, Ares, Aphrodite, Hephaestus, Hermes, and Hestia.
Athena was Born from Zeus's Head
Zeus was married to the goddess Metis, who was thought to be the wisest goddess among both mortals and gods. Zeus was told that a child born of Metis would be more powerful than he, so he swallowed Metis so that she would not have a child. Zeus did not know that Metis was already pregnant with Athena when he swallowed her.
Zeus began to have an extreme headache. This headache was so powerful that he ordered to have his head cut open to relieve the pain. When his head was cut open, Athena was born, fully grown and dressed in armor.
Athena Helps Greek Heroes
Athena possessed great wisdom, so she was often called upon by Greek mortals to help them in their endeavors.
Hercules
Athena helped Hercules complete his dangerous and difficult twelve labors, specifically his 6th labor.
In the 6th labor, Hercules had to scare off the Stymphalian Birds from Lake Stymphalia. These birds were a menace and would terrorize those who lived in the area. To scare the birds, Athena created a noise making clapper called the krotala. Hercules used the krotala to scare off the birds.
Perseus
In Perseus's quest to slay Medusa, he is given a plethora of gifts to help him along the way. One of those gifts is a large reflective shield. Perseus uses this shield as a mirror to view Medusa as he closes in on her to behead her. Without this shield, Perseus would not have been able to defeat the Gorgon monster.
Odysseus
In The Odyssey, Athena helps Odysseus to return home. It is Odysseus's son, Telemachus, who prompted Odysseus's return home. Telemachus wanted to know what happened to his father after the battle of Troy, so he asked Athena for answers. Athena visited the Olympian Court to ask for Odysseus to return home to be reunited with his son.
Athena was fond of Odysseus and wanted him to return home, so she used her intelligence to convince the Olympian Court that Odysseus needed to be reunited with Telemachus, knowing that they would agree. When they did, Zeus sent Hermes to deliver a message to Calypso, asking for Odysseus to be released from his imprisonment to return home.
During his journey home, Odysseus is faced with many challenges, and Athena continues to be there to help him along the way. Athena pushes Odysseus to keep swimming as Poseidon strikes his ship down from a storm, leaving him stranded in the ocean. Odysseus swims as Athena instructs and lands on the Phoenician Coast, allowing him to continue on his journey home.
Other Interesting Facts About Athena
She was one of only three virgin goddesses
Zeus considered Athena to be his favorite child
One of Athena's iconic symbols is an owl because the owl represents the wisdom that Athena possesses
Athena is also the goddess of justice and civilization. She was known for protecting the city, which is how present-day Athens got its name.