If there is a Greek god, there will be a Roman counterpart. While Roman gods and Greek gods share the same powers and responsibilities, they have many differences.
Greek Gods Predated Roman Gods
The first major difference between Roman gods and Greek gods is the time period. Greek mythology predates Roman mythology over 1,000 years. For example, Homer's The Iliad was written 700 years before Roman civilization came into formation.
Homer vs. Virgil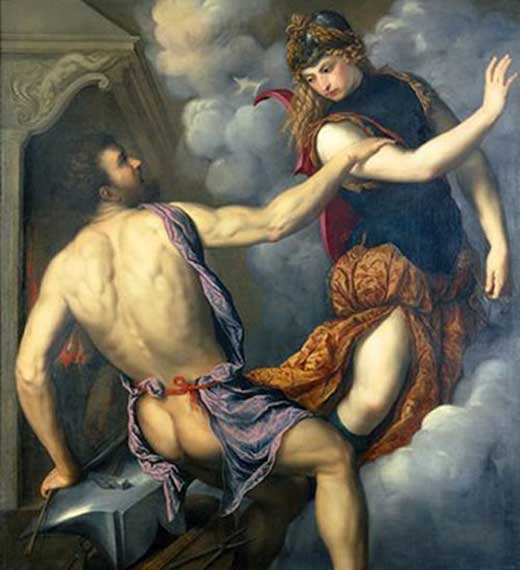 Two major literary poems depicting the Greek gods came in Homer's The Iliad and The Odyssey. Both of these poems described many of the famous Greek myths, including the Trojan War and Odysseus's return to Greece after the fall of Troy.
Virgil wrote the poem The Aeneid, which described the journey of Trojan Aeneus from Troy to Italy. It would tell the story of how Aeneus would become the ancestor to the Romans. It depicts Roman gods and goddesses throughout the story.
Physical Appearance of Greek Gods vs. Roman Gods
Another major difference between Greek gods and Roman gods is in the physical appearance of the deities.
Greek gods had heavy emphasis placed on their physical appearance, both beauty, and unsightliness. The description of their physical appearance would come from the myth itself. Greek mythology would describe the gods and goddesses as having strong characteristics. These characteristics would have a direct impact on the physical appearance they were given.
Roman gods were not described in such a way. Roman gods had less emphasis put on their characteristics; therefore, their physical appearances were less strong if there was a physical depiction of them at all.
Greek God Names vs. Roman God Names
Another major difference between Roman gods vs. Greek gods is in the name of the gods and goddesses.
Roman gods and goddesses were named after objects and did not possess a gender, whereas Greek gods were decided by human characteristics and traits. As Greek gods predated Roman gods, Roman mythology would take the Greek deity and assign a Roman object that would fit the description of the Greek god.
Here are some examples below:
| | |
| --- | --- |
| Greek God | Roman God |
| Zeus | Jupiter |
| Poseidon | Neptune |
| Cronus | Saturn |
| Aphrodite | Venus |
| Ares | Mars |
| Hermes | Mercury |
| Hephaestus | Vulcan |
Mortal Deeds
In Greek mythology, mortal Greek heroes were just as important as Greek gods and goddesses. Greek heroes often had roles that taught life lessons that were just as important as the myths that were told about Greek gods and goddesses. Greek mythology emphasized the importance of good deeds mortals performed on earth.
Roman mythology was different in this way. Roman mythology did not put emphasis on the works of mortal heroes in regards to their life on earth because Roman mythology believed in an afterlife.
How Mortals of Greek Mythology and Roman Mythology Live Differently
The last comparison between Greek mythology and Roman mythology is how the mortals of each time period view mortals.
The Greek culture viewed deities as an unattainable being. This means that mortals would never be able to reach deity status and have a place among the gods they worshipped. Instead, they would have to do good works on earth to have the honor of the gods during their time on earth.
Roman culture was different. Romans believed that mortals should try to aspire to be like the gods they worshipped. Part of the reason is that they used the Roman gods and goddesses as an inspiration to live life the right way. The other reason is that they believed in an afterlife that they would attain when their life on earth was over.