When you hear the name Persephone, you might think of her marriage to Hades and the time she spends each year ruling the underworld alongside her husband. There is more to this Greek goddess than you may know. Here are some facts you may not have known about Persephone, the wife of Hades.
Fact #1: Persephone is the Daughter of Zeus and Demeter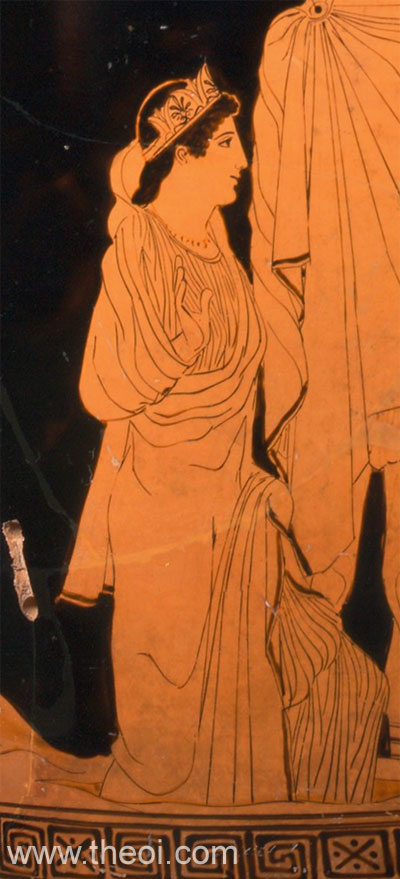 Persephone is the daughter of Zeus, Greek god of the skies, and Demeter, Greek goddess of the harvest. Zeus and Demeter both play a role in her marriage to Hades and her life in the underworld.
Persephone was abducted by Hades when he saw her in a meadow picking wildflowers. He was completely enamored in her beauty and chose to abduct her by opening up the earth to the underworld where she was picking flowers.
When Demeter notices that her daughter has been abducted by Hades, she is angered and sends the earth into a great famine. To stop the famine, Hades must return Persephone to her mother on the earth.
Zeus mediates the release of Persephone from Hades in the underworld by sending Hermes to deliver the message. Hades agrees to release Persephone, but before she leaves, he gives her a pomegranate to eat.
When Persephone returns to Demeter, she is asked by her mother if she ate any fruit while in the underworld. Persephone answers yes that she ate a pomegranate that Hades had fed her. Demeter is devastated because she knows that eating the fruit of the underworld now binds her daughter to Hades and the underworld forever.
Zeus mediates once again and suggests to both Demeter and Hades that Persephone spends some time each year both on earth as well as in the underworld. Both Demeter and Hades agree, and this is how the seasons are formed.
In those months, when Persephone is in the underworld with her husband, Hades, Demeter is sad and does not provide a harvest for the earth. This represents the winter months when plants and vegetation die off. Alternatively, when Persephone leaves the underworld and is reunited with her mother, plants, vegetation, and the harvest comes back, representing spring months of growth.
Fact #2:  Persephone Takes her Role in the Underworld Seriously
As queen of the underworld, Persephone has the ability to send beasts to kill those who had wronged her.
In the myth of Persephone and Adonis, Persephone and Aphrodite had both fallen in love with the mortal man Adonis. Zeus ordered Adonis to split his time between Aphrodite and Persephone. Adonis would spend time on the earth with Aphrodite, and then he would go to the underworld to spend time with Persephone.
One day, Adonis decided he did not want to return to the underworld and wanted to stay with Aphrodite. When Persephone found out, she sent a wild boar to kill Adonis. Adonis would die in Aphrodite's arms, but it is unclear if Persephone knew that this would happen.
Fact #3: Persephone and Minthe
Hades did not make any of his extramarital affairs a secret. Typically, his affairs would not bother Persephone, but when Minthe arrogantly bragged that she was more beautiful than Persephone and that she would win Hades back, Persephone took revenge.
Persephone turned Minthe into what we know today as the mint plant.
While it was not Persephone's choice to be abducted by Hades and tricked into marrying him, she took her new role as queen of the underworld seriously.