Introducing your kids to Greek mythology books at an early age can be an excellent way to excite them as well as inspire them to be adventurous and imaginative. Most Greek heroes accomplish amazing exploits and tend to have fun doing it. Because Greek mythology is full of immortal gods, beautiful and intelligent goddesses as well as human beings who happen to be demigods and other weird creatures, children find it relatable.
At their core, most children imagine and accept a magical world where the impossible can happen. What better way to foster that notion than to give them wonderful and exciting Greek mythology books?
Here are 12 excellent Greek mythology books for your kids to enjoy.
1. Beasts of Olympus Series – Lucy Coats (illustrated by Brett Bean)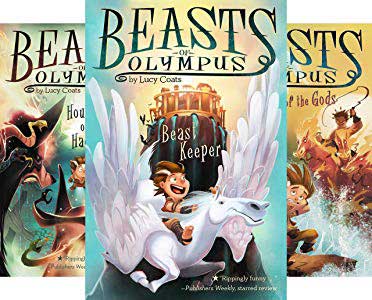 The Beasts of Olympus Series are extremely funny, and kids will absolutely love them. The books cover the adventures of a new stable boy on Olympus called "Demon." His ability to talk to animals help Demon survive his encounters with some of the scariest and unusual creatures that he cares for while on Olympus. He also has to contend with very unusual demands from the gods he serves.
Best for ages: 7-9
2. Heroes in Training Series – Suzanne Williams and Joan Holub (illustrated by Craig Phillips)
The Heroes in Training Series is a hilarious collection of books that cover the adventures and exploits of the Greek gods when they were kids. It's full of silliness, mishaps and a host of famous Greek gods, goddesses, and heroes as kids.
Best for ages: 6-9
3. Percy Jackson and the Olympians Series – Rick Riordan
The "Percy Jackson and the Olympians Series" is perhaps the most famous of Greek mythology books for kids on account of the movies. The stories are full of action as Percy, a kid with ADHD and dyslexia, learns that he is a hunted kid because his father is a Greek god. He has to battle and outwit monsters, Titans and do it all while keeping his friends safe.
Best for ages: 9-12
4. The Mythic Misadventures Series – Carolyn Hennesy
The Mythic Misadventures Series tells the story of Pandora's Box. When Pandora opened a mysterious box that belonged to her father, Prometheus, she unknowingly unleashes an unspeakable evil on the world. Zeus orders her to find and return each evil she unleashed. Each book covers her quest to find one such evil and return it to Pandora's Box.
Best for ages: 8-12
5. Greek Myths – Ann Turnbull (illustrated by Sarah Young)
Greek Mythsis a book that illustrate sixteen well-written Greek myths and perfectly worded for kids to enjoy. The stories are written in a narrative and storytelling manner that is easy to digest for kids.
Best for ages: 11 and onwards.
6. Argos: The Story of Odysseus as Told by His Loyal Dog – Ralph Hardy
Argos: The Story of Odysseus as Told by His Loyal Dog, is a book for kids who love pets. The stories in this book are narrated from the perspective of Argos, Odysseus's dog. He recounts their adventures from his unique point of view.
Best for ages: 8 – 12
7. The Olympians Series – George O'Connor
The Olympians Series are tastefully illustrated books that cover the adventures of all the major Greek gods starting with Zeus all the way to Athena, Ares, Hades, and many others.
Best for ages: 9-14
8. Goddess Girls Book Series – Joan Holub and Suzanne Williams
Goddess Girls Series is a book about a special school on Mt Olympus that teaches all the talented boys and girls such as Pandora, Artemis, and Persephone. Every one of these books is a story about how a special girl goddess navigates the challenges that she faces in school and all the fun adventures she gets into while making friends, learning and growing up.
Best for ages: 8-12
9. Wonder Woman vs. Circe – Laurie Sutton (illustrated by Luciano Vecchio)
Wonder Woman vs. Circe is a fast-paced illustrated comic book that features the mythological Amazon Princess, Wonder Woman as she battles to capture the evil Circe.
Best for ages: 7-10
10. Myth-O-Mania Series – Kate McMullan (illustrated by Denis Zilber)
Myth-O-Mania Series is a hilarious book narrated by the extremely sarcastic Hades who tells your kids all they need to know about the Greek gods. Hades paints a very different picture of what people know about their heroes. He shows you just how Zeus wasn't as good a guy as everyone thinks he is and how Hercules might have been strong but not exactly the brightest tool in the shade. This is a book for kids who understand humor.
Best for ages: 9 – 12
11. What a Beast! A Look-It-Up Guide to the Monsters and Mutants of Mythology (Mytholpedia) – Sophia Kelly
This is a book that gives you an inside look of your favorite monsters. How they live, how they relate to people, gods and generally offer some insight on how to spot a monster. It touches on all the favorites from Chimera to Hydra, Pegasus, Harpies and many others.
Best for ages: 8-10
12. Treasury of Greek Mythology: Classic Stories of Gods, Goddesses, Heroes & Monsters – Donna Jo Napoli (illustrated by Christina Balit)
This is the book for kids who want to be highly informed on Greek mythology. This book covers numerous myths, offer lessons about the various gods, gives an insight into Greek history, culture, and geography and it does it all in an easy to read and enjoyable manner.
Best for ages: 8-12
If you have curious kids who love to learn about new things, want to know all about monsters, Greek gods and goddesses and kids who are excited by heroic exploits accomplished by both demigods and normal human beings, then these are some of the most entertaining books that you can give them for their birthdays.