Hercules is known for his 12 labors, but it is because of his first wife that he was required to complete these 12 labors. Had Hercules not killed his wife and children, he may have never had to complete 12 grueling and near impossible physical tasks. So who was the wife of Hercules, and did he ever remarry after killing the first one? Find out here!
Megara: First Wife of Hercules and Daughter of King Creon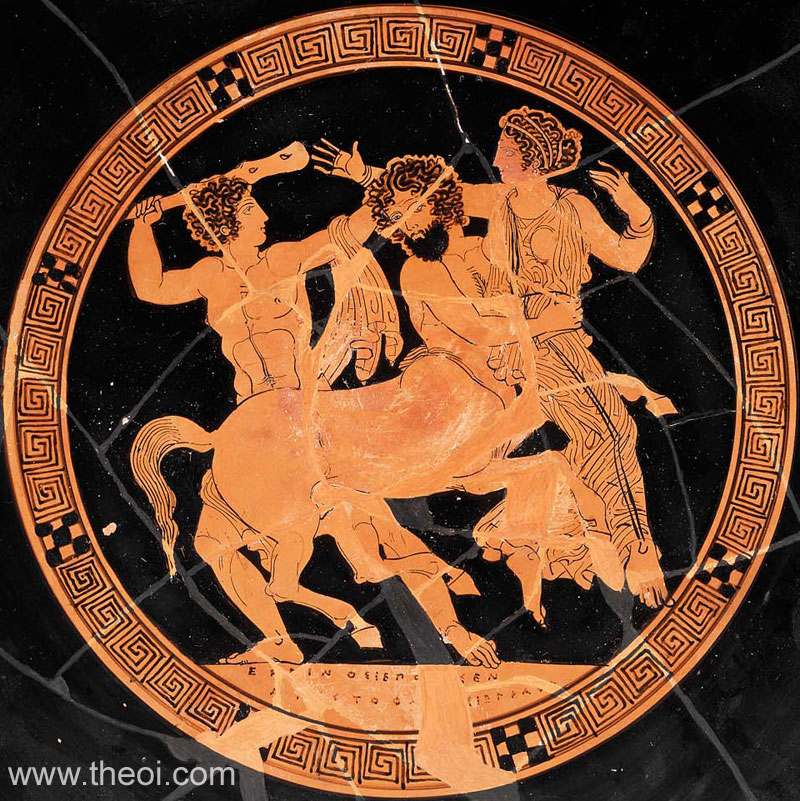 Megara lived in the Thebes kingdom with her father, King Creon, while Hercules lived in the neighboring ally kingdom. The Thebes kingdom was under imminent attack by the Minyans, who were threatening to take over their land. Hercules helped King Creon and the kingdom of Thebes by banding together a group of Thebes warriors and driving out the Minyans. King Creon was so thankful to Hercules that he offered his daughter, Megara, to marry him.
Megara Marries Hercules
Megara and Hercules are husband and wife and have three sons, Therimachus, Diecoon, and Creontiades. They were living happily together in Thebes until King Creon was killed. While Hercules was away, King Creon is killed by Lycus of Euboea and has taken the throne of Thebes. To make matters worse, Lycus is also attempting to force himself on Megara.
Hercules returns home from the help of the gods and kills Lycus, saving his family. Hercules begins thanking the gods for his quick and safe return home to save his family.
Hera, Greek goddess of marriage, is still angry at the existence of Hercules. Hercules is the son of Hera's husband Zeus and a mortal woman Alcmene; thus he is a constant reminder to Hera of her husband's infidelity.
To attempt to destroy him once again, Hera sends a madness upon Hercules as he is praying to the gods. Hera makes Hercules believe that his wife, Megara, and his sons are his enemies Hera and Lycus. Fearing for his and his family's lives, he kills Megara and his three sons.
Once Hercules realizes what he has done, he is struck with grief and full of remorse. He visits Apollo, the Greek god of healing, medicine, poetry, and arts.
Apollo tells Hercules that he must visit King Eurystheus and serve him to repent for what he has done. King Eurystheus, in turn, makes him complete 12 extremely difficult and near impossible labors to pay for what he has done to his wife and children.
Hercules Second Wife Deianira
After Hercules had completed his 12 labors, he traveled to many different lands. One of these lands was called Calydon. This is where Deianira lived. She was the princess of the land, the daughter of King Oeneus and Queen Althaea.
When Hercules arrived on Calydon and saw the princess, he immediately fell in love. Hercules intended to marry her. Deianira was beautiful and had many suitors but never intended to marry any of them until Hercules came along. When Hercules requested her hand in marriage, one suitor challenged Hercules for Deianira's hand: Achelous, the river god.
Hercules wrestles Achelous and wins Deianira's hand in marriage. After they were married, they traveled to different lands where they would remain for a period of time until moving to another one.
The last land that Hercules and Deianira came to was the city of Trachis. While in Trachis, they came in contact with Iole, the daughter of King Eurytus. One night, Hercules was preparing a feast for Iole when he asked Deianira to fetch his best shirt to wear to the festival.
Deianira was worried that Hercules now wanted to marry Iole, so she devised a plan to keep that from happening. Deianira took Hercules's best shirt and soaked it in the blood of the centaur that Hercules had killed during his travels. The centaur was named Nessus, and he was slain from Hercules's venom-soaked arrows that he used when killing the venomous Hydra during his 12 labors.
As Nessus suffered in death, he quickly told Deianira that his blood possessed a love potion that could make anyone fall in love when the blood was applied to the skin. Nessus convinced Deianira to save his blood in a vial to use on Hercules if he ever looked at another woman. This would keep Hercules faithful to her and prevent him from looking elsewhere for love. Unknowing that the arrows Hercules used contained venom, she willfully took the vial of blood, thinking it contained a love potion.
After soaking the shirt in blood, Deianira washed the blood out, leaving the love potion within it. Unfortunately, it was not the love potion, but instead, it was the venom from the Hydra that remained. When Hercules put on the shirt, he immediately agonized in pain.
Deianira quickly learned that she had been tricked by Nessus, but it was too late. Hercules was dead, and Deianira hung herself from the grief of killing her husband.